I thought I would take the time and introduce the great organization I am volunteering at in Zimbabwe. AWARE is the only veterinary conservation trust in Zimbabwe run by veterinarians, focusing on the welfare of wildlife and conservation of wildlife habitats. The Trust provides expert veterinary treatment and rehabilitation to sick or injured ownerless wild animals on a pro bono basis, especially where these animals have suffered at the hand of man. This may include preventative treatment of wild animals at risk from disease, or pre-emptive rehabilitation of wild animals threatened by humans.
Dr Lisa Marabini and Dr Keith Dutlow with Chief Ranger


In the lead are two great people whom I've had the pleasure to work with, Dr Keith Dutlow and Dr Lisa Marabini. They started AWARE Trust in 2004, the trustees were looking for independent funding to perform an important disease surveillance project.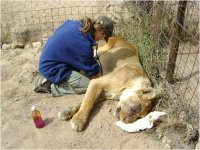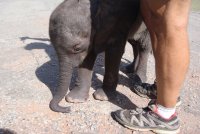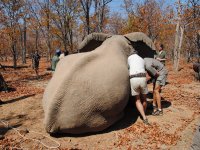 Keith is the Founder Trustee and Director of Operations, Keith was born in Bulawayo, Zimbabwe. He graduated from the University of Zimbabwe with a Bachelor of Veterinary Science in 1994 and became a member of the Royal College of Veterinary Surgeons by examination in 1996.
He has worked extensively in small animal and mixed practices in the UK, Australia and Zimbabwe. Dr Keith Dutlow's introduction
to wildlife work came through a job as an ostrich vet in Zimbabwe. In 2001, he took a record breaking 2026 ostriches by ship from Spain to Brazil. He has been working with other wildlife species, in particular lion, cheetah, elephant, rhino, buffalo, hyena and small felids since 2004.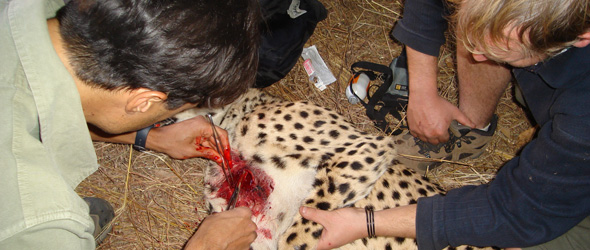 Lisa is the other Founder Trustee and Director of Operations, she was born in Harare, Zimbabwe. She graduated from the University of Zimbabwe with a Bachelor of Veterinary Science in 1998 and became a member of the Royal College of Veterinary Surgeons by examination in 1999. She has worked in small animal practices in Zimbabwe, Australia and the UK. Lisa has always been passionate about the conservation and welfare of wildlife. She obtained her private pilot's license (PPL) for light aircraft in 1994 with a view to becoming a wildlife vet.
While I was there we had the privilege of working with Dr Erick Mutizhe and Dr Andy Garura, who are also wonderful vets that work for AWARE. I was there on an African Rhino Operation but they handles various projects.
Dr Andy Garura and Dr Erick Mutizhe


Dr Keith Dutlow removing horn and Dr Mutizhe monitoring vitals


Apart from seeing amazing scenery, animals and making new life long friends I was honored to take part in trying to help an animal that is in need of help. Help that we humans can offer. The hands on experience was incredible and Im hoping to take part next time this happens. If anything I hope that we have made a difference in the existence of the rhino. Here at Art Explorers, David Levy (VYLE), Thierry Doizon (barontieri), Kristy Tipton and myself (MANu)
Dr Lisa telling me. "Is that all the strength you got Manny?" :)


are all very passionate about what we do and how we can apply it to our other passions. The oceans, the forests our wildlife something that we all treasure and are thankful for everyday for who we are as people and as artists.
Baby Rhino being tagged and dehorned


If you can donate, please do. If you have any questions send them my way. I hope you all are enjoying the African posts and promise more art exploring from digital brushes to tutorials! Feed your passions by going outside and creating!
Special thanks to Tracey and Chris Hugill, you guys are great! Team AWARE!!